Juniper Project Intensive

September 2018 - Wolverhampton
Dates: 22-23 September 2018
Times: Sat: 10-5, Sun: 10-5
Venues: Community Sports Centre, City of Wolverhampton College, Wellington Road, Bilston
(Venue subject to change)
Investment: £130
Please note you must be available for rehearsal and performance at Infusion Emporium 8 on Saturday 27th October 2018.
Juniper Project is back for its 6th year! Join
internationally renowned choreographer and
instructor Alexis Southall for an all new
choreography project to be performed at
Infusion Emporium 8's show in October 2018.
This year features at least 12 hours of instruction
and group rehearsals, advance video instructionals
and online discussions to prepare for the event.
Applications will open in early 2018. Please email Alexis for future JP opportunities: alexissouthallmail@gmail.com.
About the application process:
Click the button above to be taken to the application form (coming early 2018). Upon receipt of your application, you will be sent a video of a combination from the dance to learn - you are required to submit a video of you executing this to the best of your ability as your audition video. You have seven days to return your video from the date it is sent to you. Please note that any applications without an audition video will be considered invalid. Videos returned any later than 7 days after your receipt will void your application. If you have any problems in submitting your application, please get in touch. Thanks for your understanding!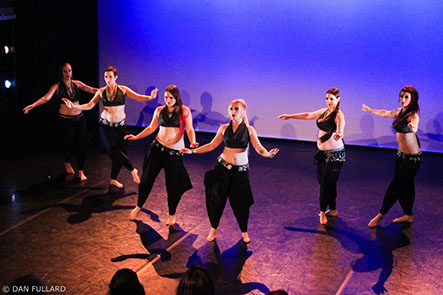 About Juniper Project
The Juniper Project intensive is more than just learning a dance - participants get the opportunity to delve into the creative process behind the choreography, learn about staging, movement quality, technique and stylisation, musicality and kinaesthetic learning capabilities. On top of all of this growth potential, the intensive culminates in a performance of the piece at Infusion Emporium 8!
This intensive is designed for dancers of intermediate/advanced level - a minimum of 3 years of regular Tribal Fusion training is highly recommended. Please make a fair assessment of your experience level before booking, and read the requirements of participants to ensure you are able to fully commit to this project. The intensive is exactly that, and so please be aware of the commitment required to make it happen before you apply.
How it Works
* Before the intensive weekend you will receive video breakdowns of sections of the choreography to learn in advance of the weekend.
* During the 2 day intensive, we delve more deeply into the choreography and shape it ready for performance - learn any sections of the dance that were not sent to you ahead of time, stage the piece with your fellow dancers, and work through movement quality and dynamics to bring the piece to life. Please be prepared for a dress rehearsal, in costume, during Day 2.
* After the intensive you are expected to continue working with the material in your own time.
* The finished product - performing the piece in the gala show at Alexis' festival Infusion Emporium on 27th October 2018.
Online support included
We'll have a secret Facebook group that we'll use to share ideas, get to know your dance colleagues, ask questions, share experiences and generally get to grips with stuff ahead of the intensive. It's a great place to get to know each other and share your excitement about the project.
The really important stuff
Please be respectful of the level required before signing up. You should be able to retain choreography, be comfortable with executing the fundamental movements of Tribal Fusion and be confident holding your own in a performance setting.
Be sure that you have the spare time to dedicate to working outside of the intensive.
You must be able to take constructive criticism and feedback on your technique and performance, and be able to put this into practice straight away.
You must be available on both the intensive weekend and on show day to participate.
You are required to invest time/money into creating a cohesive company costume. We will aim to use as much of your own existing costuming as possible, but please understand that you might be required to create something that fits the overall vision of the piece. I aim to keep costuming investment financially as limited as possible. However you are expected to have a professional looking costume - leggings and a tank top will not cut it!
If selected, please do not perform to the music for the project or any part of the choreography in advance of the final performance, and do not share any instructional videos or details of the project outside of the group. We want to keep the magic!
Schedule
Applications will be open from 31st March until 30th April 2018.
You will be notified of the success of your submission and audition video shortly after the end date for applications.
Videos will be made available in May/June, and you will be added to the secret group upon receipt of your payment.
Intensive weekend:
This weekend will focus on getting to grips with the choreography, drilling tricky sections and staging the group for the performance. This will be an intensive weekend so please come well rested and prepared to dance all day. Please bring food with you for lunch and snacks. There is a small petrol garage next door to the venue selling snacks and hot drinks. Please bring all costuming, make up and jewellery/accessories with you for the dress rehearsal on Sunday. We will take a few promotional shots and use this day as an opportunity to make a digital record of what we have created.
The small print
All bookings are non-refundable unless the event is cancelled by Alexis Southall. Alexis Southall cannot be held responsible for the inability of participants to attend due to illness, inclement weather, transport delays and difficulties, acts of god or immigration. In the event that workshop venues need to be changed, participants will be informed of this change, but no refunds will be given. Furthermore, Alexis is unable to offer refunds on the basis of technological problems related to this event, and will not be held responsible for any errors arising due to use of technology in this intensive. In booking this intensive you agree that you are in good health to participate and hold harmless Alexis Southall, Community Sports Centre, and the Arena Theatre from any injury or loss as a result of your participation.
Photography and film may be taken during the event, during workshops and during the show. By booking these workshops you agree that we are allowed to use your likeness on websites and social networking pages associated with the event and Infusion Emporium. Anyone not wishing for their likeness to be used online should make the photographer aware of this and position themselves out of shot.
By booking these workshops you agree to these above terms. Thank you, and looking forward to seeing you in September!