Tribal Fusion Education Programme 2018
Small Group ~ Wolverhampton ~ Dates throughout 2018/19
Need to Know
Each intensive day features 5 hours of taught material and contact time.
Dates:
20 May 2018 - 10:00-15:30 (30 mins for lunch)
15 July 2018 - 10:00-15:30 (30 mins for lunch)
7 October 2018 - 10:00-15:30 (30 mins for lunch)
2 December 2018 - 10:00-15:30 (30 mins for lunch)
10 February 2019 - Times TBC

Location: Community Sports Centre, City of Wolverhampton College, Wellington Road, Bilston
Class size: Maximum 10.
Cost: £275. Pay in full, or a deposit of £50 to start you off and guarantee your place.
All payments are non-refundable, and you agree that you are in good health to participate in the training.
Upon completion of payment or deposit, participants are required to complete an information form via Google Forms (which will be emailed to your Paypal address, so please check this is up to date....!) detailing their dance history and motivation for participating in the course. This helps to tailor your experience in this course, so it is very important that you complete it.
You can read testimonials from 2015's group at the bottom of this page.
Vision
For the past several years, Alexis Southall has travelled internationally teaching, performing and expanding her knowledge of the dance she loves. Reflecting on her experiences as a touring professional led her to develop a new, community focused project, the first of which ran during 2015.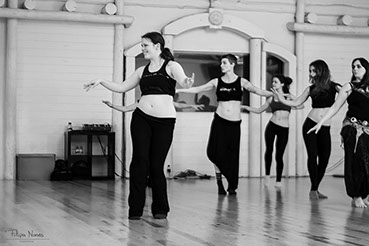 Alexis' goal is to be a part of a strong, versatile and inspired community of dancers in the UK. She has designed a comprehensive developmental programme for dancers wishing to develop their skills and artistry in the field of Tribal Fusion bellydance. The programme aims to develop artistic integrity and provide a solid foundation from which to grow as a dance practitioner.
As dancers in this genre, we often work alone without the consistent guidance and mentorship we crave to travel along our dance journey. Alexis hopes that she can be a positive role model and mentor for the cohort of dancers participating in the intensives.
An intensive education programme delivering detailed training in the fundamentals of Tribal Fusion bellydance technique and stylisation. Limited to 10 participants, the programme is structured over 5 group meetings totalling 25 hours of instruction, alongside 2-3 1 hour Skype/Google Hangouts/in-person sessions on an individual basis through the course of the programme and 2-3 video feedbacks, plus access to one online class which is yours to keep forever. We will go deep into the foundations of technique that will serve you for everything else you will do in Tribal Fusion.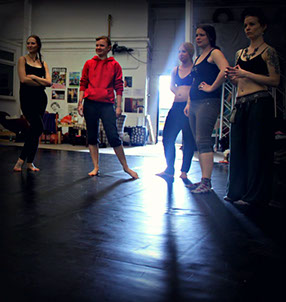 The full course syllabus covers easy to implement conditioning and drills for your practice, lessons in musicality, foundation level finger cymbal training, tribal bellydance history and more. We will stay connected throughout the course, co-developing your personal goals and working on understanding your own artistic interests and vision.
As part of the course, you will cultivate artistic expression, respectful ambition, and learn to offer critique to yourself and your peers through the development of a choreographic project.
You get the benefit of individual attention and working as part of a dedicated group, growing as a dancer and as an artist with guidance from an established teacher and performer in the style.
What to Expect
Why Alexis?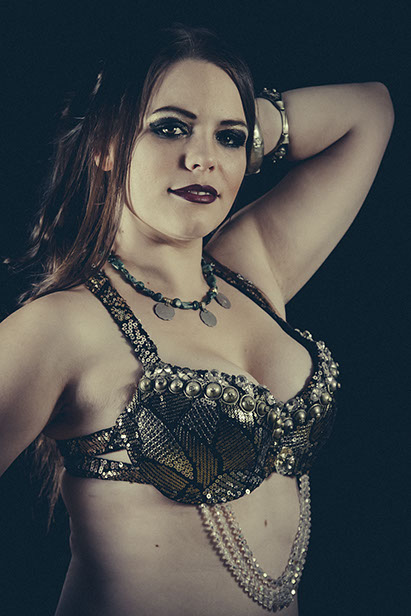 Multifaceted, versatile performer; dedicated teacher; devoted student.
Alexis has devoted the past 12 years of her life to the in-depth study of this dance form, seeking frequent intensive training with her most beloved teachers, world renowned for their expertise – Zoe Jakes, Amy Sigil and Suhaila Salimpour, to name a few of her biggest inspirations. She never stops learning and is always pushing for more from herself.
Alexis is a Level 4 certified instructor of UNMATA's ITS format, Level 2 certified in Jamila Salimpour format and Zoe Jakes' DanceCraft format, and Level 1 certified in Suhaila Salimpour format. She's also qualified in General Skills for ATS, Gym Instruction, Mat Pilates instruction, Anatomy & Physiology and Sports Nutrition, and most recently Balletfit and Integrated Dance (Ashley Lopez's new training programme). Her next stop is Pre & Post Natal exercise.
With more than two decades of performance experience under her belt in music and dance, she has a fierce dedication to her craft. She has had the honour of performing with UNMATA, Ashley Lopez, Jillina's Bellydance Evolution, Olivia Kissel's HYBRID Dance Project, Ambrosia Dance Company and in Zoe Jakes' House of Tarot Oakland shows to name a few; as well as directing her own dance project, The Juniper Project.
Her passion for dance is clear to all who meet her, and she aims to infect her students with the same enthusiasm. She has been described by students as passionate, generous, warm and inspirational.
Testimonials from previous TFEP students....
"TFEP totally changed my dancing and took it to the next level. It has been an inspiring journey, that has left me with

lasting knowledge and improved technique

. The content of the workshops was tailored to our needs, and their regularity helped with consistent feedback and areas for improvement. The private lessons were fantastic, getting to really work on specifics and to take home an improvement programme tailored specifically to my needs was great.
Alexis' teaching style is approachable but firm, driving us all to improve, her knowledge is phenomenal. There has been nothing like this in the UK, and

it's been something Tribal Fusion has really needed

, and

Alexis is the teacher and dancer who really delivers

" -

2015 TFEP Student
"The TFEP has been absolutely brilliant!

I have learned so much in a short space of time

. The course is organised and structured really well, which gives you time in between sessions to practise and consolidate things learned. The course covers a variety of things such as

dance technique, choreography, performance skills and much more

. Alexis is a fabulous tutor who gives so much through her teaching and experience. I feel I have had the opportunity to meet some wonderful dancers through this course and have really enjoyed the experience of learning new things and challenge myself.

Absolutely loved this course!

"

- 2015 TFEP Student
Previous TFEP Graduates
2015-16
Aruna Kailey
Caroline Evans
Charlotte Elizabeth
Claire Salem
Dawn O'Brien
Ebony Dormer-Kuti
Halley Fisher
Kathryn Whittington
Kirsty Bentley
Lide Vinas
Mond Tivey
Nia Lacey
Nilmini Francis
Nicola Hatchard
Robyn Richardson
Sal Nicholson
Xanthea Heynes
2016-17
Briona Ryng
Claire Cookson
Denise Lovely
Holly Blue
Isabelle Bidou
Ivana Buric
Jahanara Nemer
Katherine Thomas
Rhiannon Graham Garnett
Sarah Maddrell
Sian Day
Taryn Rutter
2017-18
Charlotte Heloise Kingsbury
Emma Hammond
Emma Hubbard
Fuschia
Janet Hathaway
Jasmine Cowles
Laigh Linh Ho
Nami Beards
Sarah-Fay Berry
Zoe Bowlt